The 16th Guangzhou International Professional Lighting and Sound Exhibition 2018
---
---
The 2018th Guangzhou International Professional Lighting and Audio Exhibition will be held on May 5, 10 in Area A of China Import and Export Fair Complex.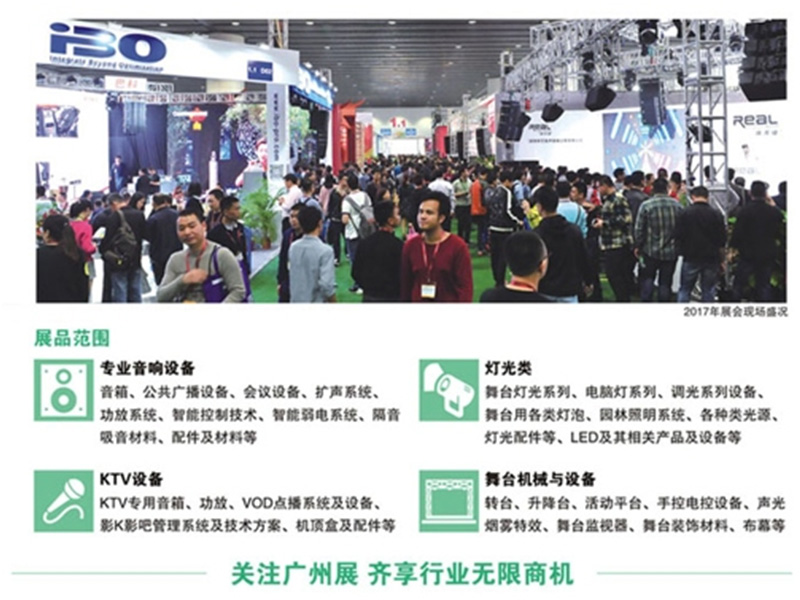 Exhibition Introduction - Overview of the 2018 Exhibition
•China's largest professional lighting and sound exhibition
•In 2017, the exhibition entered its glorious 13th year, with an exhibition area of 1,250 square meters, gathering 73,986 exhibitors and welcoming <>,<> professional visitors
•Gather high-quality professional lighting, audio products and solutions, covering the whole line of upstream and downstream products in the industrial chain
•Diversified concurrent activities, advocating innovative ideas in the industry, and comprehensively improving the efficiency of exhibitions
Organizers:
Guangdong International Science and Technology Trade Exhibition Company
Guangzhou Guangya Messe Frankfurt Co Ltd
Supported by:
China Recording Engineers Association
China Performance Industry Association
China Hotel Association
Guangdong Performance Industry Association
Guangdong Sound Recordists Association
Shanghai Performance Industry Association
Enping Electroacoustic Industry Association
Institute of Acoustic and Lighting Technology, Guangzhou University
German Performing Arts Technical Association (VPLT)
Brazilian Association of Musical Instrument and Audio Manufacturers (ANAFIMA)
Japan Electronics Fair Association
Thai Hotel Industry Association
Acoustic building
Taiwan Technical Theater Association
Guangdong Stage Art Research Association
China Stage Art Society
KODA Audio booth location: Hall 3.2 A01. At that time, customers from all over the country will be invited to visit the booth for guidance!

---